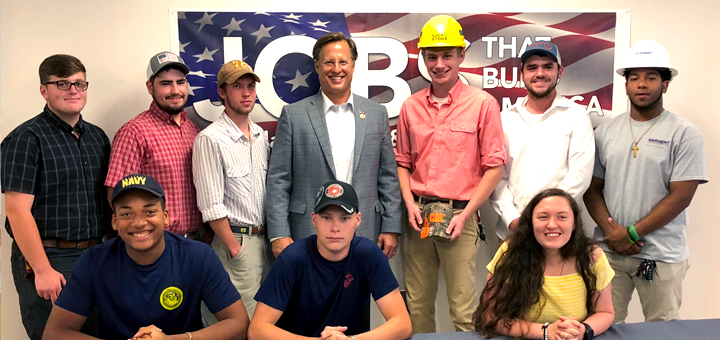 Goochland CTE graduates joined by Virginia Congressman Dave Brat for their May 2018 signing event to celebrate heading into the workforce or military service.
How do we solve the growing shortage of skilled tradespeople? That's a big question, but the Goochland CTE Heavy Machinery Program is making headway. The program – which was launched five years ago – offers a curriculum that focuses on providing students with "real life" experiences in the trades. Their motto? "Jobs That Build America."
Goochland Tech is part of the Goochland County Public School district in Goochland, VA. High school students can choose to participate in the program as early as their sophomore year, where they begin with small engine/diesel mechanics class. The next year, they transition to heavy machinery. As seniors, students who have completed all their prerequisites are eligible to be placed with a local company as an apprentice of sorts. The student works eight hours a day, every other day for the company he/she is placed with, learning what the job entails on a day-to-day basis.
The program's popularity is growing. Interest is so high that they currently turn students away due to limited class size. While the current focus is on machinery, there is always an opportunity it could expand in the future, especially since the program is receiving state recognition. The Virginia Department of Education selected the program as the Region I winner of the 2018 Creating Excellence Program. The award is presented annually to acknowledge exemplary programs and partnerships that promote excellence in career and technical education.
Mr. Verasstro is the course instructor and incredibly passionate about the program. He recognizes that many of his students are local kids, want to stay in the area, and may be interested in alternatives to college. He believes the Heavy Machinery Program checks the boxes, as it provides students with hands-on experience and helps them forge relationships with local companies in the trade.
S.B. Cox and Luck Stone are two local, VRMCA-member companies actively supporting the program. Among other activities, they participate in the annual Goochland High School Career Day that takes place in February, joining the students in the classroom to speak about the industry and host senior apprentices. Win-win for everyone involved!
To learn more about this program and how your company may participate, please contact Bruce Watson, Director – Career and Technical Education at 804.556.5613. While the Goochland program is unique in the Commonwealth, we encourage you to research and support other programs that reach out to students in your area!