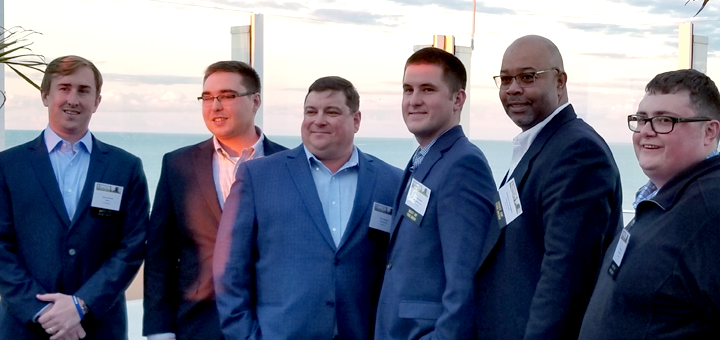 From left to right: Mac McWane, Daniel Peabody, Tony Thomas, Matthew Swope, Anthony Washington, and Rob Kraker.
Congratulations to the VRMCA 2018 Best of the Best graduates!
This year's class – Rob Kraker (Vulcan Materials), Mac McWane (Boxley), Daniel Peabody (Superior Concrete), Matthew Swope (Swope & Associates), Tony Thomas (Titan America), and Anthony Washington (Capital Concrete) – completed the program with two strong case study presentations at the VRMCA 2018 Fall Convention in Virginia Beach late in October. Both teams tackled incredibly timely and rather difficult subjects, and by all accounts they delivered insightful, well-researched and impactful presentations.
Up first was the team of Mac McWane, Daniel Peabody and Anthony Washington, who were challenged to define ways to improve the public's perception of concrete through education and marketing. The group opened their presentation with a powerful video that focused on the strength of concrete. More importantly, it made the case for how concrete impacts our lives in unknown but important ways. When the video finished, they shared their ideas on how to market concrete within the community and addressed opportunities to recruit younger adults to our industry with an apprenticeship program and a "signing day" event for participants.
Next to present were Rob Kraker, Matthew Swope and Tony Thomas. This team was tasked with outlining strategies to recruit and retain mixer truck drivers. They started by distilling the recent NRMCA survey around the same subject, taking us through turnover, why drivers leave and where they go. With that background established, the team reviewed their ideas on creating a larger applicant pool for new drivers, which included a push to change the perception of mixer truck drivers. Lastly, we heard their views on how to keep the drivers once they are in the door with a focus on what we can and can't change.
We wish the entire 2018 Best of the Best Class much luck as they move on from the program!
And while the 2018 program just finished, it's never to early to start to think about who you can nominate for the VRMCA 2019 Best of the Best Leadership Program! Keep an eye out for nomination and registration forms later this year.