Following a distinguished career of nearly 40 years, S.B. Cox Ready Mix, Inc. announces the retirement of the company's Vice President, Glenn Webb, effective April 5, 2019.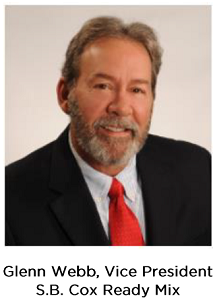 Glenn started in the ready-mix industry in 1980 with Lone Star Industries. After joining S.B. Cox Ready Mix, Inc. in 2001, he served as an accomplished Sales Manager for nearly fifteen years before rising to Vice President in 2015. He is a two-time past Chairman of the Central VA Concrete Advisory Council and currently serves on the Board of the AGC and the VRMCA. Glenn has been an integral part of helping S.B. Cox Ready Mix, Inc. become one of the area's largest producers. The valuable leadership and major contributions he has made to our industry over the last forty years are immeasurable and he will be missed both professionally and personally. We wish Glenn all the best upon his retirement.
Membership news courtesy of S.B. Cox Ready Mix, Inc.